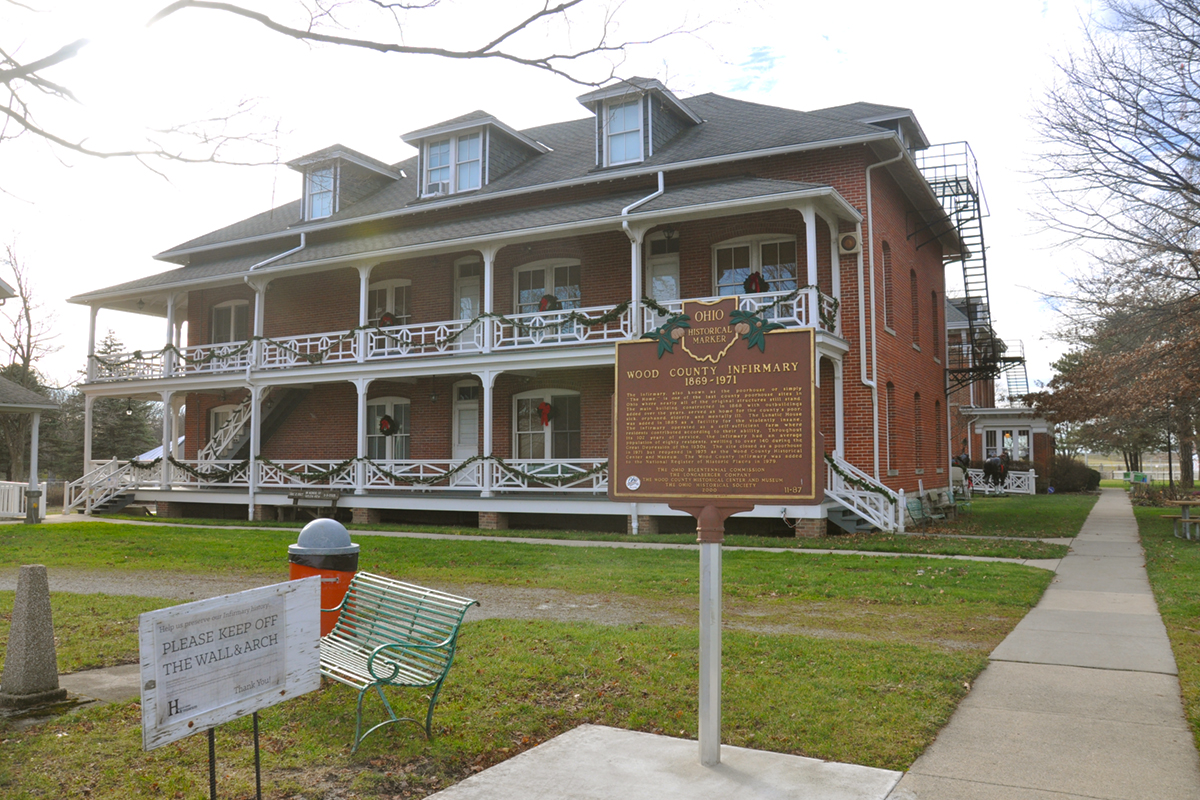 Wood County Historical Museum Bowling Green Ohio
Chimney Repair and Cleaning Services for Bowling Green OH and Wood County
Are you looking for a dependable chimney sweep near you in Bowling Green, Ohio home of The National Tractor Pulling Championship? Tiny Tom Chimney Repair and Cleaning Specialists is your local Bowling Green, Ohio area chimney sweep expert possessing 40+4 years of experience as a chimney sweep pro in complete fireplace and chimney repair and safety services.
Tiny Tom is your local chimney sweep authority in the town of Bowling Green, Ohio the county seat of Wood County. As your neighborhood chimney sweep authority, their skill at creosote deposit cleaning, tuck point repair and the total maintenance of your heating and venting system is unsurpassed.
If you want a unique experience, visit The Wood County Museum, it was once the original site of the Wood County Infirmary/ Home or the Poor Farm. It housed the poor, mentally- ill, physically disabled and anyone residing in Wood County who required public assistance. Now a Museum of local history, make sure you check out The Mary & Carl Bach Story exhibit which tells the tale about the last public hanging to take place in Wood County. It includes artifacts from the case including Mary's fingers and the hood and noose from the hanging.
Afterwards, drive down the road to Snook's Dream Cars, a replica 1940s era Texaco gas station, that houses a showroom which displays an extensive collection of automobile memorabilia and a car collection presented within period scenes ranging from a 1930s general store to a racetrack from the 1960s. While you are enjoying your daytrip, Tiny Tom Chimney Sweep will clean and repair your heating system. If combined with a scheduled, regular, maintenance plan, they will ensure the continuous health and well-being of your chimney and fireplace for years to come.
On their visit to your home, you should expect, Tiny Tom Chimney Repair & Cleaning Specialists, to carry out a roof walk and chimney inspection. They will assess the condition of your heating system and provide a free, all-inclusive, evaluation for chimney or firebox repair costs. Tiny Tom Chimney Services uses the most up-to-date, high-tech, fire prevention, chimney repair and cleaning equipment. By catching the troubles early, they will stop potentially expensive repairs and save you time, money and frustration.
Maybe outdoor activities are what you love. If so, Wintergarden Nature Preserve is a great place to walk the trails, see native wildlife and bird watch. If you enjoy art fairs Black Swamp Arts Festival 2nd weekend in September hear nationally recorded bands or stroll the streets and see or purchase art from all over the US. Meanwhile, Tiny Tom Chimney Sweep will clean, repair or modify your fireplace or woodstove system. It will be clean and trouble-free when you return from your visit.
Tiny Tom Chimney Sweep Repair & Cleaning offers outstanding, professional, chimney sweepers and if you need additional services, they can aid you with animal removal, remodeling and firebox upgrades. Tiny Tom's crew will exceed your expectations in service and repairs.
If you need a pick-me-up, stop in at Grounds for Thought Coffee shop featuring, home roasted, GTF coffee, pastries and sandwiches, surrounded by local color. Or grab a meal at Pagliais for good Italian food, pizza and subs. If alcoholic drinks are more your style, stop in at Bowling Green's original and first Tap Room, Bowling Green Beer Works and try a unique beer, wine or seltzer that are named after people or events that reflect the personality of the town, or stop in at The Stones Throw Tavern and Grill Irish Pub. They have an excellent selection of Irish beers, ale and authentic Irish grubÖ say Hi to Chris while you're there.
At home, Tiny Tom Chimney Sweep Repair & Cleaning Specialists will clean your chimney and hearth or install a firebox or upgrade your dryer vent system. Your fireplace is in the experienced, skilled hands of Tiny Tom's Chimney Repair crew on your return home from a day of relaxation and fun, you will find your fireplace or woodstove clean and trouble-free.
Tiny Tom Chimney Sweep Repair also handles problems like animal removal or mortar damage repair, so give them a call. They are your local experts in chimney restoration and repair. If you are hungry, while they are fixing your chimney emergency, enjoy a five-star meal at SamB's Restaurant, in an upscale casual atmosphere with a chef-driven menu surrounded by fine, locally made art. Or stop by Sunset Bistro, and enjoy an upscale moderately priced meal including American fare with a twist.
Tiny Tom Chimney Repair and Cleaning Specialists firm is professionally licensed, bonded and insured. They adhere fully to long-established fire safety codes & standards. If you need a chimney repair, cleaning or general firebox maintenance around Bowling Green, the county seat of Wood County, Ohio, call Tiny Tom's for an all- comprehensive, free estimate. Providing skilled, professional, specialized service is Tiny Tom's Chimney Sweep Repair & Cleaning Services pleasure.
Tiny Tom Chimney Sweep and Repair Services
Call us at 800-788-8469