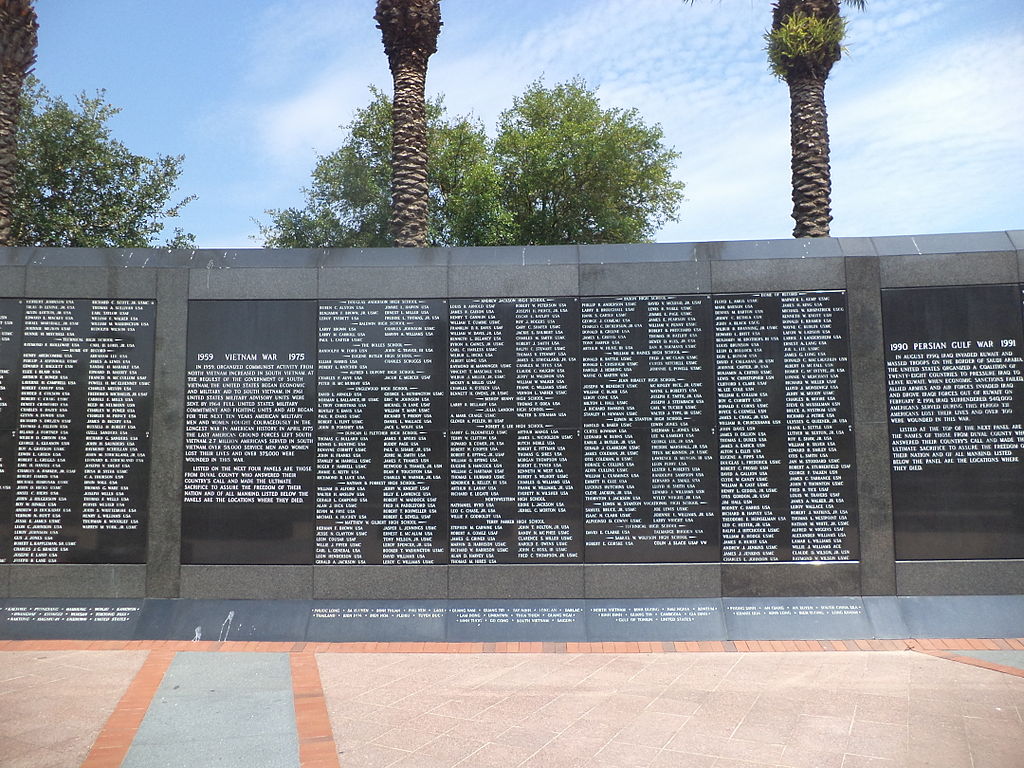 Inspirational Duval County Veterans Memorial Wall
Chimney Cleaning Sweep and Repair Services in Duval County Fl
Are you looking for a good chimney sweep near you in the Duval County, Florida area? With 40 years of experience as a chimney sweep pro, Tiny Tom is the local chimney sweep expert you need in Duval County, Florida. As experts in complete fireplace safety and chimney repair services, Tiny Tom Chimney Repair and Cleaning Specialist is your resident Duval county chimney sweep authority, they are skilled in creosote deposit cleaning, tuck point repair and the total maintenance of your venting system. So, do some shopping in the city of Atlantic Beach, Florida or take a walk at Sunset Pier Park on over 9,000 ft of Duval County Florida nature trails, enjoy fishing off the pier or take a canoe or kayak trip. During your outing, Tiny Tom Chimney Sweep will improve the health of your chimney and fireplace with cleaning and repair work. In addition, with regular care and continued maintenance the health of your heating system will perform with continued efficiently for years to come.
Tiny Tom Chimney Cleaning Repairís first visit to your home includes a free evaluation, with a roof walk and chimney inspection, then they judge the condition of your heating device and provide a free estimate for chimney or firebox repair costs and maintenance. Tiny Tom Chimney Services uses the most high-tech, up-to-date, fire prevention, chimney repair and cleaning gear which catches chimney and venting troubles early. By preventing potentially pricy repairs, you are saved time, money and frustration. So, call Tiny Tom Chimney Sweep and Repair and take some time to enjoy some outdoor excitement like a Palm Coast Fishing Trip or head out to Baldwin, Florida and enjoy the view on The Jacksonville-Baldwin Rail Trail. The Rail Trail extends from northwest Jacksonville to Baldwin in Duval County. While you are out, Tiny Tom Chimney Sweep will clean, repair or remodel your fireplace or woodstove system so when you return, it will be clean and trouble-free.
Tiny Tom Chimney Sweep Repair & Cleaning will supply superior, qualified, chimney sweepers and if you need additional services, they can assist you with remodeling, firebox upgrades and animal removal. Tiny Tom's crew will top your expectations in service and repairs. Take an airboat ride at Black Hammock in Lake Jesup, Florida or stop at BrewHound dog park & bar in Jacksonville, Florida featuring bean coffee, local craft beer & wine on tap. Play and mingle outside with your dog, enjoy a hot or cold beverage and relax and delight in the lovely North Florida sunshine. Tiny Tom will tend to your Chimney and fireplace needs.
Or maybe have some fun with your family at the Shipwreck Island Waterpark at Adventure Landing or enjoy a picnic or entertainment at one of the pavilions or camping areas at Neptune Beach. Tiny Tom Chimney Sweep Repair & Cleaning Services will clean your hearth, firebox, chimney or upgrade your dryer vent system. Your fireplace is in the expert hands of Tiny Tom's Chimney Repair crew and when you return home from a day of relaxation, you will find your fireplace or woodstove clean and trouble-free.
Tiny Tom Chimney Sweep & Repair also handles problems like animal removal or mortar damage repair, so give them a call. They are your local experts in chimney restoration and repair. While they are fixing your chimney emergency, go enjoy a refreshment at Atlantic Beach Brewing Company or The Blind Rabbit whiskey bar. Tiny Tom Chimney Repair and Cleaning Specialists firm is professionally licensed, bonded and insured. They adhere fully to long-established fire safety codes & standards.
If you need a chimney repair, cleaning or general firebox maintenance in the Duval County, Florida community, call Tiny Tomís for an all- comprehending, free estimate. Providing skilled, professional, specialized service Tiny Tom's Chimney Sweep and Repair Services' strength.
Tiny Tom Chimney Sweep Cleaning & Repair Services.
Call us at 800-788-8469