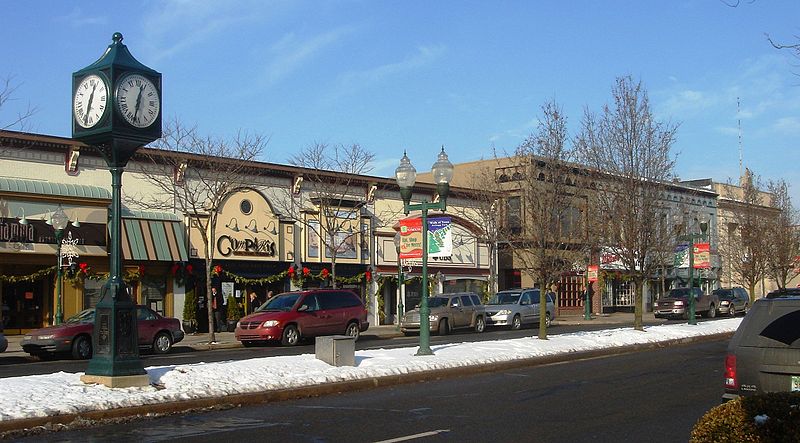 Downtown intersection in lovely Plymouth Michigan
Chimney Cleaning Sweep Repair Near Me Plymouth Michigan
Want to know where a good chimney sweep near you is in Plymouth, Michigan? Tiny Tom's Chimney Sweep and Repair Specialists is your local chimney sweep expert. Tiny Tom Chimney Repair has 40 years of expertise as a chimney pro and delivers complete chimney and fireplace maintenance, safety and repair services. They are the authorities in chimney restoration services from chimney deposit cleaning and tuck point repair to the complete overhauling of the venting system. Inspection starts with a chimney inspection and roof walk and ends with providing a free estimate for chimney repair costs to the customer.
If your chimney needs service, leave the job to us. Tiny Tom continues to provide the latest in high-tech chimney cleaning equipment, repair and fire prevention, catching troubles early, thus saving time, money and aggravation. While we are working, Kellogg park is the place to go, there are many events there year-round. Spend the day at the Plymouth ice spectacular, the oldest ice carving festival in north America, the Green Street Fair or Art in the Park, knowing that when you return home, your fireplace is safe and clean. Or enjoy some food or a beverage at Cantoro Italian Market, Crawford's Kitchen or Sports Venue Bar & Grill, meanwhile, Tiny Tom Chimney Repair & Cleaning Specialists will provide your chimney and fireplace with routine care to deliver continued trouble-free service of your wood burning device. Maybe a road-trip to Ann Arbor or IKEA spending the day shopping is more your style, we will repair your chimney or hearth or just do a chimney cleaning while you are out. Afterwards, you will come home to a maintenance-free fireplace or woodstove creating a warm and comfortable home environment.
Our dedicated and professional staff at Tiny Tom Chimney Repair & Cleaning, provides your home with the very best chimney sweepers whose services include, animal removal, capping, chimney rebuilds, wood stove installation or firebox upgrades. We will exceed your expectations in service and maintenance.
Tiny Tom Chimney Repair and Sweep Services is a bonded, licensed and insured, professional company. They follow strict compliance with fire safety codes & standards. If you need chimney cleaning and repair or general household repairs in the Village of Homes, Plymouth, Mi near Canton township. Give us a call for a free estimate. At Tiny Tom's your satisfaction is our main concern.
Tiny Tom Chimney Sweep Services
Call us at 800-788-8469