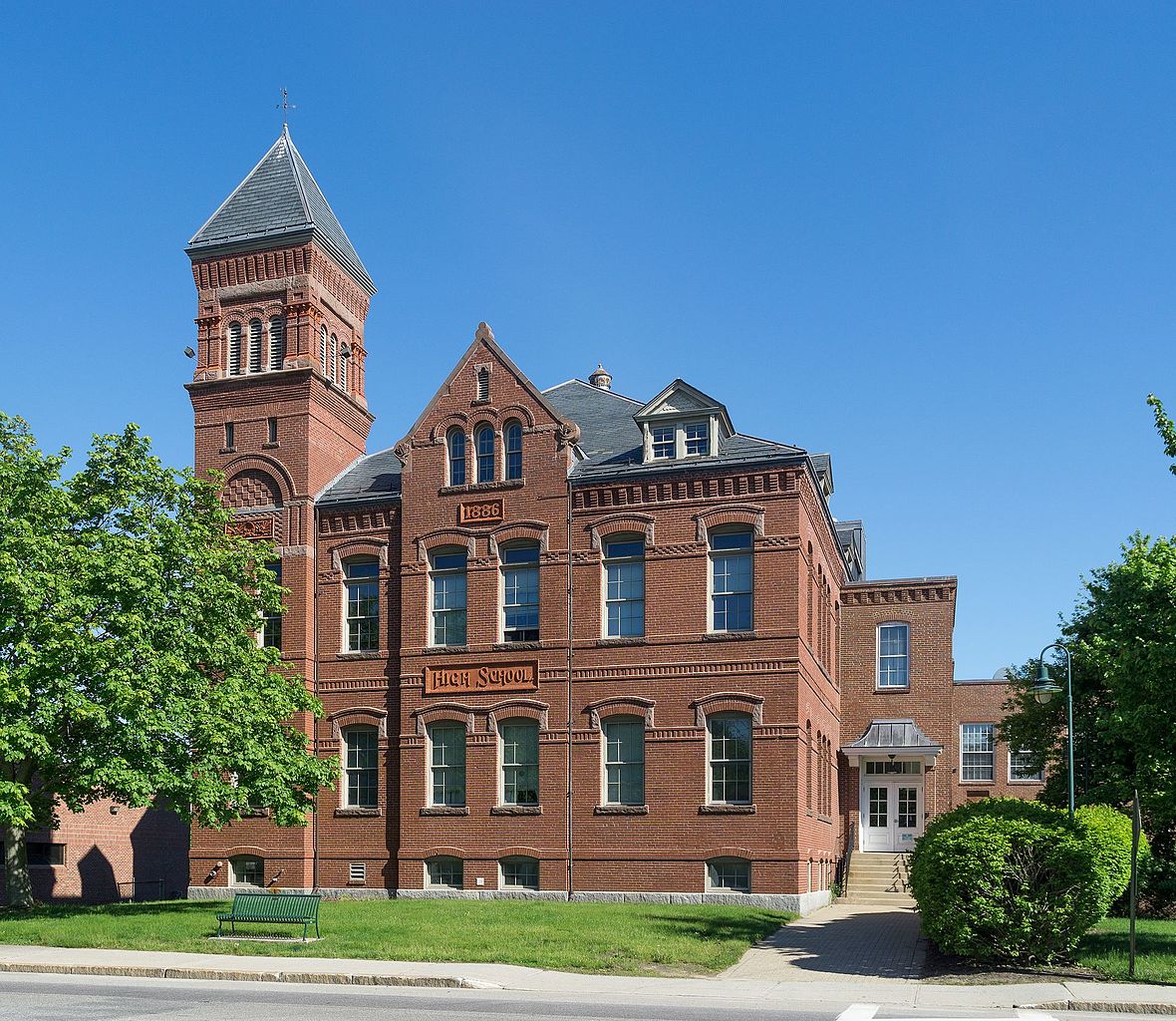 Old Westbrook High School Westbrook Maine
Chimney Cleaning Sweep and Repair Services Near Cumberland County ME
Are you wondering if thereís a good chimney sweep near you in Cumberland County, Maine? The answer is "Yes"î Tiny Tom Chimney Sweep Repair & Cleaning Specialists is your local chimney sweep authority. Tiny Tom Chimney Repair and Cleaning's 40 years of experience as a chimney sweep pro, is your local chimney sweep expert in complete fireplace safety and chimney renovation services.
Skilled in creosote deposit cleaning and tuck point repair, Tiny Tom is the local expert in Maine's largest county on I-95. They provide total maintenance of your venting system and will sustain the health of your chimney and fireplace with regular care and continued, trouble-free maintenance of your wood burning device. If you live near the National Historic Landmark, Morse-Libby Mansion, in downtown Portland, Maine or Winslow Homer Studio in Scarborough and need maintenance on your chimney or wood burning stove, give Tiny Tom Chimney Sweep Repair & Cleaning Specialists a call.
If you want a quote on a chimney overhaul and are looking for a chimney repair expert near me in Portland, Maine, look no further, Tiny Tom Chimney Sweep and Repair is who you need. On their initial visit to your home, Tiny Tom Chimney Repair & Cleaning Specialists, will execute a FREE roof walk and chimney inspection, then judge the condition of your heating appliance and provide an estimate for chimney reparation costs. Tiny Tom Chimney Services uses the most high-tech, up-to-date, chimney repair, fire prevention, and cleaning equipment.
By catching the troubles early, Tiny Tom's Chimney Sweep stops potentially needless repairs and saves you, the customer, time, money and frustration. So, if you want to go exploring The Desert of Maine, a 40-acre tract of exposed glacially deposited sand surrounded by a pine forest near the town of Freeport, Maine or climb the Giant's Stairs near Bailey Island Bridge in Harpswell, Maine and observe breathtaking views of the Atlantic Ocean, enjoy your day knowing you will come home to a clean and trouble-free fireplace or woodstove system.
Supplying only the most exceptional and professional, chimney sweepers, Tiny Tom Chimney Sweep Repair & Cleaning will assist you with your chimney needs. They can also provide you with additional services like animal removal, remodeling and firebox upgrades. Tiny Tom's crew will go beyond your expectations in service and repairs.
Meanwhile, take your family to Thompson's Orchards Donuts, Pies, Cider, Fresh Bread, Pumpkins, Jelly's and Jams and Country Goods in, New Gloucester or Ten Apple Farm in Gray, Maine and experience what life on a homestead is like by participating in a workshop on canning, butchering or cheese making or take one of their infamous goat hikes.
Tiny Tom Chimney Sweep Repair & Cleaning Specialists will clean your hearth, chimney or firebox or upgrade your dryer vent system while you are out. So, relax take that sightseeing tour of the Babbs Covered Bridge in Windham, Maine, Wolfe's Neck Woods State Park on Casco Bay or Portland Head Light on Cape Elizabeth, knowing your fireplace is in the expert hands of Tiny Tom's Chimney Repair expert crew and when you return home, from enjoying a meal at the Orchid Thai Restaurant & Bar in Falmouth, you will be left with the knowledge that your fireplace or woodstove is safe and secure.
So, if you are looking for a chimney sweep in your area for animal removal or mortar damage repair. Call Tiny Tom Chimney Sweep Repair & Cleaning. They are your local experts in chimney restoration and repair. While they are fixing your chimney emergency, you can enjoy trip on the Maine Brew Bus for a fun day of bar hopping and a stop at the Bar of Chocolate CafÈ in Portland, Maine. When you return home, your Chimney problems will be resolved.
Tiny Tom Chimney Repair and Cleaning Specialists firm is professionally bonded, licensed and insured. They follow full compliance with fire safety codes & standards. If you need a chimney repair, cleaning or general firebox maintenance in the Cumberland County, Maine area, call Tiny Tomís for an all- comprehensive, free estimate. Executing a skilled and professional service is what Tiny Tomís Chimney Sweep Repair & Cleaning Services does best.
Tiny Tom Chimney Sweep Cleaning & Repair Services
Call us at 800-788-8469